Making a reservation for a Hermitage Retreat begins with a personal telephone call to Pacem in Terris.
Why a telephone call?
God's call for Pacem in Terris was very personal;
"Create an environment where My people can come and be alone with Me."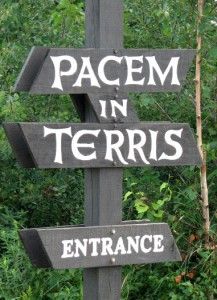 ---
Being faithful to the personal nature of God's call, the ministry of Pacem in Terris is to extend the hospitality that reflects God's love and personal care for every guest/hermit.
This personal care is felt as guests are:
Personally responded to when telephoning Pacem for a hermitage reservation.

Personally welcomed when arriving for a hermitage retreat.

Personally oriented and accompanied to their hermitage.

Personally assured of prayer support and any special requests they may have.

Personally re-supplied with needed hermitage items including their food basket.

Personally assisted with luggage upon departure.

Personally rejoiced with in their gratitude for the hermitage experience.
And, most importantly, hermit guests are deeply touched by their personal encounter, the intimacy of being alone with God, in the silence and solitude of the hermitage.