Juan Diego Cuauhtlatoatzin was born around 1474 in present-day Mexico. He was an indigenous Chichimeca peasant. On four occasions from December 9—12, 1531, a radiant, young Aztec woman appeared to Juan at the hill of Tepeyac. She introduced herself as the Virgin Mary. In his fourth vision, she asked him to approach the bishop and request that a chapel be built.
When the local Spanish bishop demanded a sign, Mary told Juan to gather the roses growing at the hill in his cloak. He returned to the hill and gathered the Castilian roses that were blooming there, though they were neither native to the country nor in season. He brought them to the bishop wrapped in his tilma (cloak). When he opened his cloak, the roses fell out and an extraordinary image of the Virgin Mary appeared on the tilma.
The bishop gave his blessing and a chapel was built on the hill, honoring Mary as Our Lady of Guadalupe. The tilma remains in the shrine there to this day, and is one of the most popular pilgrimage sites in the world.
---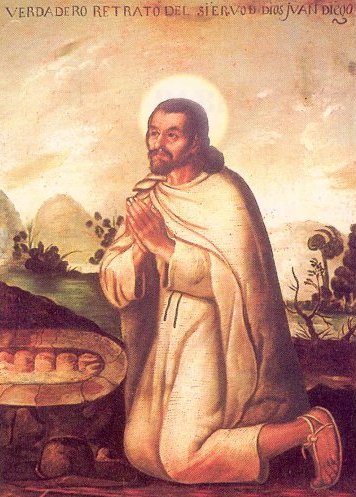 The vision brought an end to Aztec human sacrifice, and within just 10 years after her appearance to Juan Diego, 9 million Mexicans became followers of Christ. St. Juan Diego is the first Catholic saint indigenous to the Americas. He was beatified in 1990 and canonized in 2002.
"A great sign appeared in heaven: a woman clothed with the sun, with the moon under her feet and a crown of twelve stars on her head." - Revelation 12